Because of the risk of Coronavirus / COVID-19 when meeting in person, Olympia Friends Meeting made the decision to close the Meetinghouse to our own events and renter's events for the foreseeable future.
So that we can continue having Meeting for Worship on Sundays at 10 a.m. and other meetings, we are meeting online with Zoom. There is information about how it works posted on our blog here.
Starting in July 2020, weather permitting, as long as we are in Phase Three or Four we will also be holding Meeting for Worship outside on the lawn at the Meetinghouse at 10 a.m. for up to 25 people – if we have the three volunteers to manage this.
Olympia Monthly Meeting of the Religious Society of Friends (Quakers)

Meeting for Worship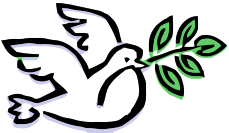 We worship every Sunday morning at 10 a.m. 
In a Quaker Meeting for Worship, we wait in expectant silence, with no planned program, seeking to experience the source of life and truth. We invite you to attend our Meeting.  Following the rise of Meeting for Worship and introductions, we enjoy a social time with coffee, tea, and light refreshments. Anyone and everyone is welcome! You will find information about our Meeting and about Quakers in general on this website.
Please check our calendar for other things coming up.
Children's Program
At this time we do not have our Children's Program at the Meetinghouse. The Children's Committee has put together some events on Zoom. 
When we are able to return to fully meeting at the Meetinghouse, we have a children's program and children are always welcome! On Sunday mornings, about 15 minutes after the beginning of Meeting, the children are led out for the Children's Program. On Query Sunday (third Sunday of each month) the children stay for the first half-hour to hear and be part of the response to the query.
Location
Our Meeting House is located at 3201 Boston Harbor Road NE; Olympia, WA  98506-2800. Coming from Olympia it is just past Priest Point Park at the intersection of Boston Harbor and Flora Vista roads. See a map here.
Contact Us
Our phone number is (360) 754-4028. Please leave a message if we do not answer. 
Or call/text our Meeting's Hearthkeeper, Gabi Clayton, on her cell phone: (360) 888-5291.
Use the contact form on this page to send us a message.
Meeting's directory here – secure, login required.